ACECLOFENAC PARACETAMOL TABLET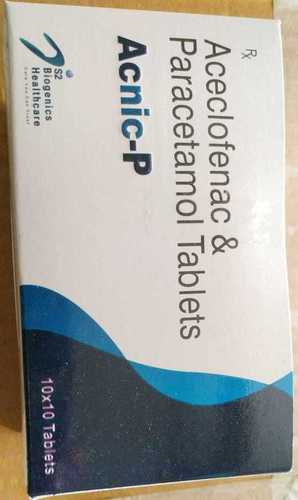 Product Details:
Drug Type

Generic Drugs

Ingredients

ACECLOFENAC IP 100 MG + PARACETAMOL IP 325 MG

Physical Form

Tablets

Function

Other

Recommended For

pain, fever and inflammation (redness and swelling)

Dosage

1 TABLET BD

Dosage Guidelines

1 TAB BD
Price And Quantity
10 BOX Tablet

4.90 INR/Box
Product Specifications
1 TABLET BD

Other

Suitable For All, Aged Person, Adults, Women, Teenagers

ACECLOFENAC IP 100 MG + PARACETAMOL IP 325 MG

1 TAB BD

Generic Drugs

pain, fever and inflammation (redness and swelling)

3000 Unit

NORMAL AT ROOM TEMP

Tablets
Trade Information
Cash Advance (CA)

All India
Product Description
Usually, elderly people confront different diseases related to their joints and other body parts. Whenever they experience pain in arms and feet and other joints then, it could be some type of arthritis. Not only in elderly people, but we can even witness such diseases in the middle-aged people. It's all because of the lifestyle and food habits. However, there is a medication that helps in relieving the pain and inflammation in those folks. Aceclofenac Paracetamol is one of the best medicines that treat various disease conditions that include Osteoarthritis, Rheumatoid Arthritis and more. Here is everything you need to know about Aceclofenac Paracetamol, its uses, side effects, usage, dosage and more. Take a quick look!
Aceclofenac is a non-steroidal anti-inflammatory drug (NSAID) that is used to relieve pain and inflammation in conditions like Ankylosing Spondylitis, Osteoarthritis, and Rheumatoid Arthritis. This tablet works by inhibiting the chemical substances in the body that causes pain and swelling. Usually, this medication is an oral medicine and so it can be consumed through the mouth.

Composition and Nature of Aceclofenac Paracetamol:
Aceclofenac Paracetamol Tablet contains Aceclofenac and Paracetamol as its active ingredients. These ingredients work in the best way of reducing the pain and inflammation in the people who are suffering from Arthritis diseases.
Uses and Benefits of Aceclofenac Paracetamol:
There are abundant benefits and uses of Aceclofenac Paracetamol medicine. Aceclofenac Tablet is used for the treatment, control, prevention, and improvement of the following diseases, conditions, and symptoms:
It is also used to treat symptoms like the following:
Pain, stiffness, and swelling of joints associated with Rheumatoid arthritis
Painful and tender joints associated with Osteoarthritis
Pain and stiffness associated with Ankylosing spondylitis
This Tablet may also be used for purposes not listed here.
Read More: Ab Phylline Uses | Althrocin Uses
Side Effects of Aceclofenac Paracetamol:
Usually, people who use some medicine for treating any kind of diseases might experience some adverse side effects. However, it is not definite that every individual who uses this medicine will come across the reaction. These are just the possible bad effects that could be major and sometimes minor based on the condition of the patient. The potential side effects associated with Aceclofenac tablets are:
Nausea and vomiting
Abdominal pain
Other reaction include dizziness, gastritis, heartburn, indigestion, insomnia, liver toxicity, ulcers in the mouth, vertigo, and an increase in blood urea and blood creatinine levels.
Aceclofenac Tablet may also cause side-effects that are not listed here. Few of the effects may be rare but very severe. So, it is advisable to consult your doctor, if you experience any such adverse reaction to the medication.
Common Dosage of Aceclofenac Paracetamol:
The normal dose for Aceclofenac tablet is 100 mg tablet taken two-times daily, preferably one in the morning and one in the evening. Maximum of 2 tablets should be taken in a day. However, follow the doctor's prescription for the amount of medicine to be consumed.
Overdose instructions:Â

Do not use more than the prescribed dose. Contact your doctor immediately if an overdose of Aceclofenac is suspected. Signs and symptoms of overdose include rashes on the skin, pain in the chest, blurred vision, etc.

How does Aceclofenac Paracetamol work?

Aceclofenac works by blocking the consequences of COX (otherwise referred to as cyclo-oxygenase) enzymes. These COX enzymes are generally present in a human body and assist in producing definite chemicals. These chemicals are referred to as prostaglandins. The prostaglandins are accountable for all the symptoms in the patient that include redness, swelling, and pain at the place of wound or damage. As a result, by inhibiting the consequences of these particular COX enzymes; fewer prostaglandins are produced. This indicates that the pain and inflammation are eased. This is the working procedure of Aceclofenac Paracetamol medicine.

Warnings and Precautions - When to Avoid Aceclofenac Paracetamol?

Before using the Aceclofenac Paracetamol medicine for treating your arthritis pain, you need to understand some crucial points about it. One must and should follow some of the precautions prior to consuming this medicine. We have compiled a list of all the related warnings and precautions for the patients to follow before using Aceclofenac Paracetamol tablet:

Do not take this medicine if you have asthma or allergic to Aceclofenac or other anti-inflammatory painkillers.
Do not take this medicine if you have a heart condition or impaired kidney or liver function.
Aceclofenac is not recommended if you have any bleeding disorder. It may cause severe swelling and bleed in the stomach, anus, and colon.
This medicine should not be taken during pregnancy or by mothers that are breastfeeding.
The use of Aceclofenac Tablets may impair female fertility and hence it is not recommended for women attempting to conceive.
Women who have difficulties conceiving or who are undergoing infertility treatments must avoid these Aceclofenac Tablets.
If you have high blood pressure or blood clotting problems, do not take this medicine.
Do not take this medicine if you have a history of ulcer in the stomach/intestine.
Aceclofenac Tablets should be discontinued if abnormal liver function tests persist or worsen.
Aceclofenac Tablets should also be discontinued if the symptoms consistent with liver disease develop.
Patients suffering from impairment of hepatic function require close medical surveillance.
Patients with a history of hypertension and congestive heart failure must be under continuous monitoring.
With the increase in dose and duration of exposure, the cardiovascular risks of Aceclofenac may increase. So, the shortest duration possible and the lowest effective daily dose should be used.
For patients with congestive heart failure, Aceclofenac should be administered with caution and under close medical surveillance.

NOTE:
Before using Aceclofenac tablet,

You must inform your doctor about your current list of medications, over the counter products (e.g. vitamins, herbal supplements, etc).
You must also inform your doctor about your allergies, pre-existing diseases, and current health conditions (e.g. pregnancy, upcoming surgery, etc.).
Without your doctor's approval, you must not modify the drug regimen.
Get in touch with us