Meeting needs of both mature and emerging markets with our range of Covid 19 Protection Products, Orthopedic Implant,
Hospital Bed Sheets, Pharmaceutical Injections, etc.
Our Company & Business Heritage

Having our roots in India, we, S2 Biogenics Healthcare, are a group of companies from Maharashtra, which have spread our business wings across markets with a world class range of healthcare and safety products. We specialize in many generic or brand medications as a manufacturer and trader, and also deal in Face Mask And Bouffant Cap Cover, Safety Face Shield, 2-Propanol 1-Propanol And Mecetranium Ethyl Sulphate Solution, Surgical Orthopedic Implant, etc., as per ISO 9001:2015 standards. All these goods are carefully made at our state-of-the-art facility in Ahmedabad, Gujarat and Palghar, Maharashtra that is strictly operated as per GMP norms.
Our team forms the crux of our operations and we consider our human resources as our most important asset. Any challenges we face in the competitive pharma industry are met by our experts in congruence with specific needs of our customers. Promoting a congenial environment of learning, growing and evolving, we help them give their best through innovative and cost effective medicines and other products.

Our Vision
To scale benchmarks in the Indian pharma industry via swift supply of therapeutic formulation in the form of effective capsules, ointments, injections, tablets, syrups, dry suspensions, ointments powder, etc., and attain staggering sales in the process.

Our Mission
We work in harmony with our simple mission, which is to introduce novel medicines, drugs and allied products like Face Mask And Bouffant Cap Cover, Surgical Orthopedic Implant, etc., that appropriately address unmet requirements of the Indian pharma industry.

Value & Commitments
We sharply focus on our core values, which encapsulate the following:

Exemplary Standards of Behaviour
Practice, Review, Correct & Re-Practice (The PRCP Cycle)
Monitoring of day-to-day business activities
We also commit to the following:
Exhibiting quality and perseverance in everything that we do to give the best to our customers
Responding to customers needs after thoroughly evaluating their exact requirements for Face Mask And Bouffant Cap Cover, and other products.

Working to develop a corporate culture that is fair, encouraging and rewarding

Business Conduct & Ethics
We value the faith and confidence of our customers, internal employees and other business associates.

Purpose and Core Belief
To always arrange for timely supply of quality medicines and allied pharmaceutical products.

Leadership
We work under visionary guidelines of more than 25 years experienced mentors, who help us stay committed to healthy lives across multiple therapeutic segments.

Social Responsibility & Values

We keep an open eye towards the well-being of the society at large. As a part of our social responsibility programme, we also ensure we adopt eco friendly methods in all our operations, including our production methods related to bulk manufacturing of Face Mask And Bouffant Cap Cover, Surgical Orthopedic Implant, etc.
We care for everyone as we believe health leads to contentment
We especially care for the poor, downtrodden, and the incapable

Research & Manufacturing
We are driven by research and innovation, and as such, make sure that we come up with improved and updated solutions, time to time.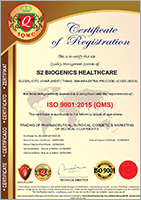 Get in touch with us